Delivery & Packaging
Contact Free Delivery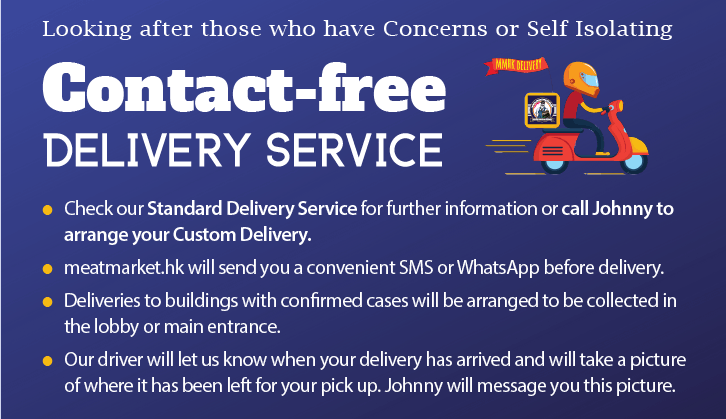 Top
Deliveries & Staying Safe During Extreme Weather
Top
Standard Delivery Service
Our standard delivery service covers most of Hong Kong, Kowloon, Outlying Islands (including Lantau and Discovery Bay) and the New Territories (including Clearwater Bay and Sai Kung).

For most orders over $600 (after discount), our standard delivery service is FREE!

When it isn't free, delivery charges start from $50!

Deliveries to the New Territories, DB, MaWan and Tung Chung
Delivery Updates as from Wednesday 5th August 2020: Due to restrictions placed on us by our delivery partner for New Territories, DB, MaWan and Tung Chung, we are temporarily unable to deliver to these locations on a daily basis.

Until further notice please kindly note the following schedule:
New Territories - Monday & Thursday Only. Cut off time is 1PM the day before

DB/MaWan/Tung Chung - Friday only. Cut off time 1PM the day before
We are very sorry for any inconvenience caused and are hoping that this is only for the short term. If you are looking for a delivery outside of this schedule, please contact us through our online chat or email to customer-service@meatmarket.hk
These are our Standard Delivery districts:
Is your home outside of our standard delivery radius?
No problem, we have a solution for you:
If you work within our standard delivery area then why not have your meat delivered to the office instead?

meatmarket.hk packaging is easy to carry and will keep your meat icy cool.

Or if your district is close to one of our Standard Delivery districts then email customer service or call the MEAT HOTLINE on 8135 1394. We will see if we can help!
Top
Delivery Packaging
No styrofoam boxes!

Reusable, Returnable Insulated Pouches!

Recycleable Carry Bags!

Brand New Frozen bottles that can be Consumed after Delivery!

Re-use cardboard boxes!
We deliver your orders in attractive, reusable, returnable insulated pouches and throw in a frozen bottles of water to keep your order icy cold. The frozen bottles of water are brand new and can be consumed and the bottles recycleable.

Your groovy insulated pouch comes in a convenient carry bag so you can easily have your meat delivered to the office and carry it home!
Going Green!
We're on a mission to continuously improve the green credentials of our business. Check out how green we are here.

Did you know?

Hong Kong operates a "Polluter Pays" measure that ensure that retailers take responsibility for the packaging waste that they distribute.
Measures include an industry packaging collection and recycling programme.
One of the biggest challenges to the recycling process is identifying and sorting different packaging types.
At meatmarket.hk we've been labelling our 100% biodegradable, 100% compostable, recyclable insulated carry bags since 2007 with material identifiers to ensure a smooth recycling process.
We won't stop there! We are always looking for new cost effective green initiatives. Watch this space!
Top
More Delivery Details
Order Cut Off Time
Non-delivery Periods
No Shows
Guarantee/Refunds
Change of Address
Order Cut Off Time
Same Day Express Delivery is available for Hong Kong and Kowloon orders submitted by 1:00 PM Monday-Friday and is delivered the same day between 3:30PM - 7:30PM for a flat fee of $50 per order.

Otherwise, for most of the Hong Kong SAR orders received by 1:00 PM can be delivered the next day. Check the schedule for your area here.

Non-delivery Periods
No Standard deliveries on Sundays or on Public Holidays.

Delivery will be delayed if a typhoon signal No.8 is raised or a black rainstorm warning is in effect.

No Shows
We take every precaution to ensure completed delivery:
Please ensure that someone is ready to receive your delivery at the selected time slot

If no-one is home then we will attempt to follow the "If not home" instruction on your Profile

If this fails then we will attempt to contact you on the telephone number(s) supplied in your Profile to make alternate arrangements

If this fails then the goods will be returned to Cold Storage.
Regretfully meatmarket.hk may charge for redelivery or redirection of failed orders. This charge will be at cost only.

Guarantee/Refunds
All goods are guaranteed. See the meatmarket.hk Quality Guarantee for details.

Change of Address
You can change your Shipping Address, Billing Address and Contact details at any time here. However, please call the MEAT HOTLINE on 8135 1394 if you have already placed an order to your old (redundant) address.
Top